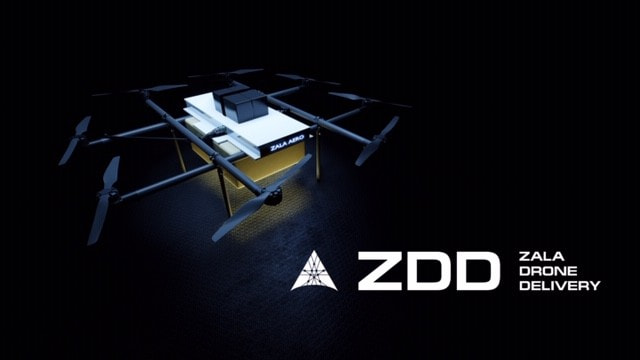 TECHNOLOGY
ZALA AERO GROUP introduced a concept for the use of unmanned aerial vehicles
ZALA AERO DRONE DELIVERY (DD) service that allows you to solve the problem of delivering cargo to any location, regardless of its whereabouts. You no longer need to construct complex logistics routes and think about traffic, the new solution is delivery by the shortest route, in the shortest time possible.

The terrain map obtained using airborne laser scanning will allow you to bypass any natural or man-made obstacles.
The system will automatically draft the optimal route and coordinate it with the authorities that regulate air traffic. Interference-free communication channels allow the operator to control aircraft even at extremely low altitudes.
An automated system control process allows you to simultaneously perform the task with the help of two or more aircraft operating in standalone modes.
The system can operate in adverse weather conditions in the presence of precipitation in the form of rain or snow, as well as wind speeds of up to 15 m / s, as well as being able to perform night flights.
Fault tolerance and duplication of control systems allows you to safely return the aircraft to the starting point even when 7 of 8 engines are running. Guaranteed confirmation of cargo delivery using photo and video streaming and recording. And all this is a ready-made "boxed" solution, a technology that can be adapted to perform the task, anywhere in the world.
ZALA AERO GROUP (member of Kalashnikov Concern) — leading Russian developer and manufacturer of unmanned aerial vehicles (UAV) including payloads and mobile systems.
Currently in Russian Federation over 2000 ZALA UAS systems are operational. Systems are used to patrol borders, search and rescue operations while monitoring over 2,5 million kilometers of oil and gas infrastructure every year.