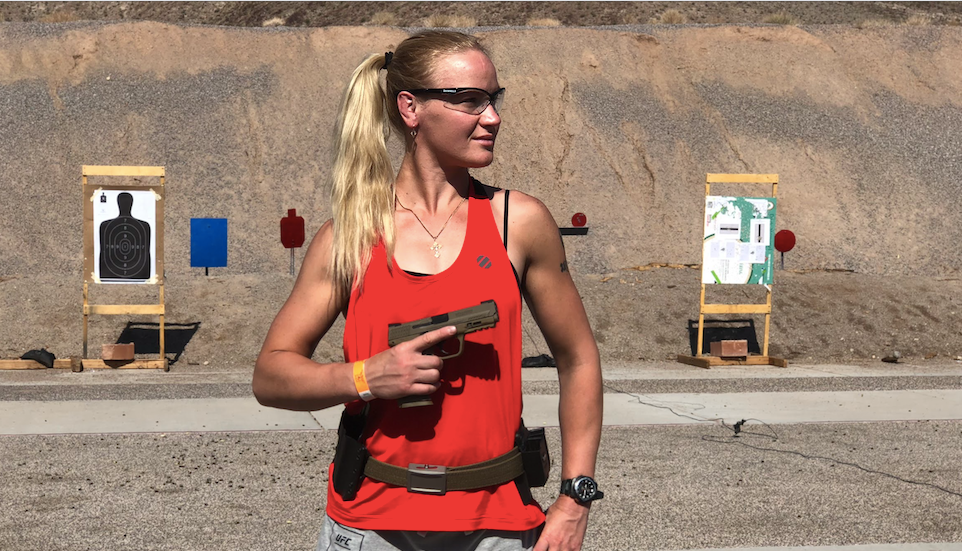 SPORT
Valentina Shevchenko: «A gun is a symbol of gentlemanliness and the perfect beauty of something made by man»
We interview a famous athlete, UFC lightweight kickboxer on her gun hobby
UFC fighter Valentina Shevchenko or "The Bullet" got her nickname for speed and reaction. But now it has an additional meaning - a few years ago Shevchenko seriously became interested in weapons and practical shooting. We decided to find out where this hobby came from, what pistol she tattooed on her body and which weapon in her collection is the most favorite.

- What is the story behind how you got the nickname 'Bullet'?'
- My combat name 'Bullet' ('Pulya' in Russian) was given to me by my instructor Pavel Fedotov, after my first professional fight in 2001. That was the first time. I became seriously involved in shooting much later.
- How then did you become interested in weapons?'
- It was our instructor who introduced us to the world of weapons. He served in the Soviet Army and was a T-72 tank commander. So, he was familiar with weapons. And a love of arms was instilled in him by his grandfather, a war veteran, an officer, who took part in three wars.
- What was the first weapon you ever shot?

- Aside from the pneumatic pistols that we used for training back then in Russia, the first time I fired a pistol was after moving to Peru (Valentina lived there for several years – note by Kalashnikov Media), in 2008. As a matter of interest, it was the Russian Margolin sports pistol. The next day, I shot a .22 Walther Pistol. And later that same day, a Glock 17. Then, I realised that I should always keep a firearm on hand: it wasn't due to needing self-defence, but since this was something that I really, really liked, it opens up a big new and interesting world of weapons for you—from its very beginning to infinity.
- Do you have a private collection? What firearms did you buy, and why? Which weapon is your favourite?'

-In Peru, I had several pistols. My favourites were the Glock 25 and ČZ 83, a Czech pistol, which is an improved copy of the Makarov, 12-round, ergonomic, and just as handsome and reliable. After moving to the United States, I managed to expand my collection. Brownells is one of Antonina's (Valentina's sister – note by Kalashnikov Media) and my sponsors. They help me to buy firearms and equipment. In our collection, we have Glocks 17, 19, and 42, a replica of a Colt 1911, a .357 Sig Sauer Scorpion, a S&W Shield, an M&P 2.0 Compact 9 mm, and an M&P 2.0 9 mm. My sister also has an S&W Performance Centre M&P 9 Pro.
I own some Russian firearms as well: a 1962 German made Makarov, a 1944 Izhevsk Nagant revolver, and a TT. Moreover, my collection features a .25 Browning Baby, as large as two matchboxes. A few months ago, they called me from the Houston Shooting Range, another one of our sponsors, and they said that they had a 1935 Soviet Mosin rifle for me. This rifle fought in Spain and is now part of my collection. It is very beautiful and accurate. And it is even a pleasure to touch it. The entire gunstock is made from old wood. The stock features a butt plate made of steel; there is a ramrod and a chiselled breech-block. When shooting it, you can touch a piece of history. It's a kind of time machine. The most impressive rifle cartridges ever made are probably those for the Mosin rifle.
I love my Nagant very much as well. There is no recoil when firing it. Just listen to the sound of the cylinder, even an empty one, when cocking the trigger! Its elegant bullets are sunk into brass shells. The old weapons are eye-catching. So many thousands of designers have tried hard to create all of these firearms. I treat old weapons like works of art, just like they treat paintings and architecture.
My favourite pistol is the Glock 19. It is an honorary weapon presented by Brownells. There is an engraving on the breech-block with my name and a bullet symbol. This firearm is robust and I see it as a landmark 21st-century weapon. It is a lightweight and compact 15-round pistol. In Peru, we lived in the jungles of the Amazon for a long time. When on the march, many rifles and pistols will rust very quickly due to high humidity, if they are not cleaned on a daily basis. It is true for everything but the Glock. Even if it's fired a lot during the day and isn't cleaned for a long time, it will still chamber a cartridge without warping or stoppages and will shoot steadily. If something fails, it's the poor-quality ammunition. By the way, the same holds for the entire line of Smith & Wesson M&P firearms.
The Glock 19 is another landmark for me. It is universal, just like an MMA fighter. That is why I got a tattoo on my lower abdomen several years ago. So, now I can always keep it near me.
- Where do you keep all your weapons?

I keep my weapons at home, in a gun safe. However, this is not required by US laws. In most states, any citizen is free to buy a weapon at any store where they are sold. The Paperwork takes no more than 10 minutes. The owner will be responsible for their weapons. One should carry the weapons and cartridges separately. If you always intend to carry a loaded pistol with you, you need to listen to a six-hour series of lectures in order to know the rules and laws of a state. Some states allow the open carry of firearms. In other words, a pistol may hang openly on a belt, in a military manner. In most states, only the concealed carry of firearms is allowed, which means it should be in a holster under clothing. As for the cartridges, no special licenses are required to purchase them, for any calibre.
In general, the firearms culture is very well developed in the United States. At shooting galleries, you can always see parents who teach their children, both boys and girls, how to shoot pistols and rifles.
- Are you engaged in practical shooting? How and where do you practice and who is your coach?'

- Just like wrestling, Pavel Fedotov is our shooting instructor. He himself participated in a lot of practical shooting competitions in Peru and won a number of prizes at various championships. When Pavel conducted training in shooting (and we practiced a lot not only at the shooting range but also in the gallery), we got just as tired as in MMA training. In Peru, we had a large number of contests that were held almost every week. These were the IPSC and IDPA tournaments. My sister and I often competed with men. And always in the Production Division. We almost never used lightweight cartridges for the competition. We managed to take a few prizes. Antonina became Peru's IPSC champion. I always used the Glock in tournaments. And Antonina took her ČZ 75.
In the United States, there are a lot of good shooting ranges as well as good shooting galleries. Both the IPSC and IDPA competitions are held frequently and everywhere. Last year, we participated in an IDPA event in Houston, Texas. We saw shooters who were well past 70, but their accuracy and shooting speed were envied by many young shooters.
Training in practical shooting makes a person feel young and capable of competitive performance for many years, regardless of their age.
- Have you ever used your shooting skills in real life?'

- I had no chance to use weapons for combat myself, but I still got into a shootout in Lima, despite all the precautions associated with the very high crime rate in Latin America. My instructor stood alone against four armed robbers. In just a few seconds, more than 15 bullets had been fired from all of the barrels. The instructor was wounded in this shootout.
Naturally, firearms can and must be used for self-defence. But for me, a pistol is first and foremost for sport, a history, and a symbol of gentlemanliness and the perfect beauty of something made by man.